2023 MLD Family Conference®
It's the only MLD-specific conference...
Days Until We Meet Again!
Knoxville, Tennessee ...
Friday July 14th thru Saturday July 15th
Please join us as we gather the MLD Family™ and their MLD affected loved ones along with the world's leading MLD doctors, researchers, scientists, and caregivers for a weekend of fun, education, discussion, friendship, live hugs and an unforgettable time!
All MLD families are invited, whether you currently have an MLD affected loved one or an angel! There will be plenty of group and one-on-one time to meet the other families and the doctors. Leave the weekend with new friends, new knowledge, and practical inspiration & ideas!
"I can't describe to you what it means to families to finally meet another family face to face at a MLD Family Conference™. The rarity of MLD makes families feel very isolated. Our extended family can't understand what we are going through, and very few doctors know about MLD so families find themselves educating the doctors and staff who care for their children, and the families have to watch and try to cope as their child endures painful losses and slowly slips away. Time spent sharing with one another on our family discussion list helps but being able to touch and hug someone in person does more than words can say."
In-person registration is closed, but …
VIRTUAL REGISTRATION IS OPEN!
Please join the MLD Family Conference™ virtually via interactive Zoom. Learn about MLD, Therapies, Newborn Screening, Understanding Grief, Making Memories & Creating A Legacy, Exploring Communication /ACC & AT Devices, Meeting the Needs of Siblings, and the Gift of Inclusion.
You can participate via chat or share your questions live if you wish.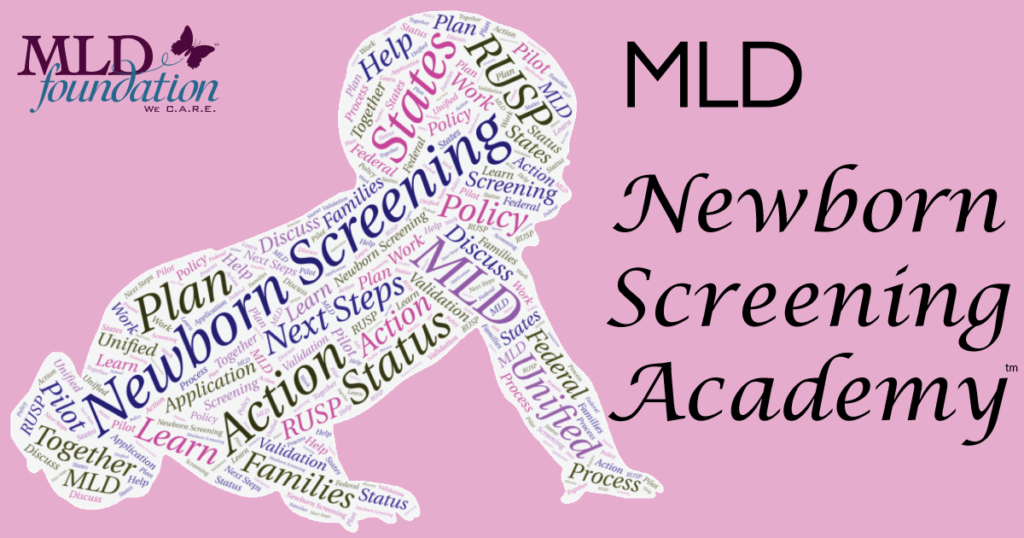 We all know diagnosis before symptoms is the gateway to the best outcomes with therapies.  Newborn Screening is the best way to diagnose early.    But newborn screening is so much more than just a lab test. How do we get MLD NBS launched in every state and country? How do we help public health implement MLD NBS? How do we get on the federal, state and international screening lists?
Join us for the MLD Newborn Screening Academy™, a session at the upcoming MLD Family Conference™, to learn more, ask questions, and start collaborating to implement MLD NBS.

We're again heading south this year to Tennessee for our 2023 MLD Family Conference™! Join us in historical Knoxville, TN.
We'll have plenty of social time, highly-interactive sessions as well as some special breakout sessions!
EARLYBIRD BONUS – Register by June 3rd and GET THURSDAY NIGHT FREE!
Check in Thursday and get settled before the conference starts Friday morning.
We urge you to make your travel plans early, especially if you are flying in, to keep travel costs down. The closest airport is Knoxville (TYS).
If you can't fly into Knoxville, Nashville is just under a 3 hour drive and Atlanta and Charlotte are a 4 hour drive.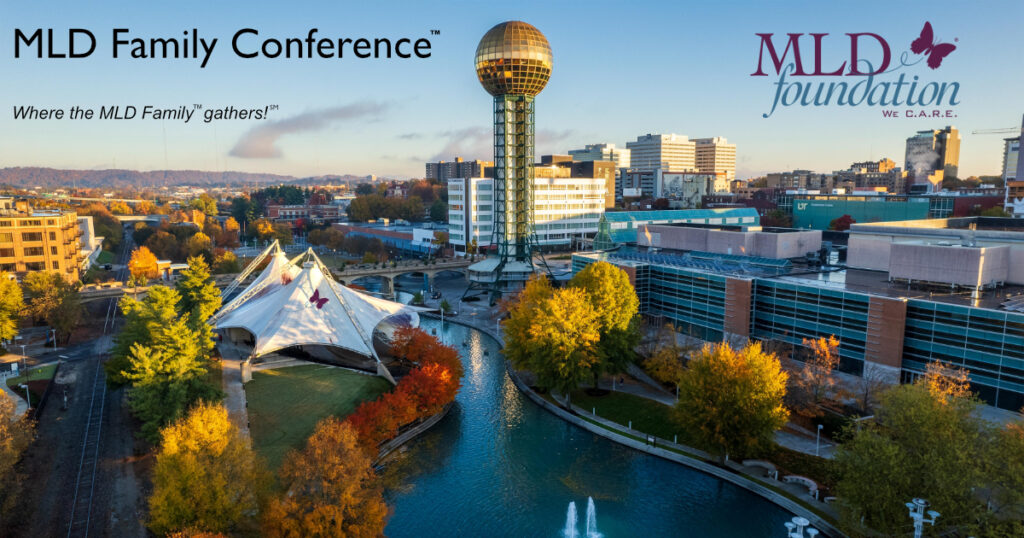 Thursday – arrivals
Friday – 9:30 am start – includes light breakfast, lunch, and a casual welcome dinner
Saturday – 9:00 am – 5 pm followed by a MLD Family™ dinner celebration … includes all meals
Sunday – departures
We continue to refine and adjust the agenda to include more time to socialize, adding focused breakouts, and replacing boring one-way lectures with roundtable discussions & panels!
You can view this year's working agenda here.  Presentors will be added as they are confirmed and the final agenda may differ slightly. The conference format is very interactive and may include some remote video connections.
We will be providing an experienced volunteer staffed respite room for those affected with MLD so you can enjoy the presentations or if your loved one needs time to rest or simply wants to have a better time with DVDs, art and other activities. They will be in a room near our meeting room for easy access and your peace of mind. You will be responsible for all medications, feeding, and toileting.
Children and youth must be supervised while at the hotel – either sitting with you in the meeting, supervised by an adult in your room, or participating in our children and/or youth programs. They cannot roam the hotel or swim unsupervised. You are responsible for your children and teens.
We will again have a structured children's program for all children – both healthy and affected. We have experienced leaders planning two full days of games, art, music and other activities to help the kids enjoy their time, too.
If you express interest and there are enough youth registered, we will try to put together a separate youth program (ages 11 and up).
Our host hotel is the Crowne Plaza Knoxville Downtown, a hotel located in Knoxville, TN
401 W Summit Hill Dr SW, Knoxville TN 37902 … click for map to the hotel
+1 865-522-2600
Check In: 3pm, Check Out: 12pm
The hotel has King and Double Queen rooms. Limited number of Queen Rooms with tubs and connecting rooms. Please specify on registration if a tub, connecting room or accessible room is needed.
Hotel parking is included with registration.
PLEASE NOTE – DO NOT contact the hotel directly for reservations or special requests, all reservations and requests must be handled directly by MLD Foundation.
The Crown Plaza is in downtown Knoxville a block north of the Market Square, home to a good selection of restaurants and shopping. The hotel offers luxurious comfort with quiet sophistication, a home away from home in the heart of the city. University of Tennessee is nearby. The roooms are well-appointed to ensure a comfortable stay with plush beds, complimentary high-speed Wi-Fi and HDTVs, tasteful decor, a peaceful atmosphere, and superior service.
The amenities included in the chic, comfortable guest rooms, include a plush Sleep Advantage® bed, high-speed wireless Internet, premium cable channels on the flat-screen high-definition television. Choose from king or queen beds, all of which are firm yet soft for a healthful, supportive rest. Their pool is inside to maintain comfort on warm July days. 
[read more and see photos on the hotel web site …].
We strongly encourage all families, even local families, to stay at the conference hotel. A key aspect of the MLD Family Conference is the casual atmosphere and ability to mingle with other families. Our hotel rooms are underwritten by grants and donations to keep the cost to a minimum.
The conference room rate of $190 has been extended 3 days before and 3 days after the conference if you wish to stay in the area for any extra time. Parking is extra.
Your registration includes continental breakfast, lunch & dinner on Friday, … and breakfast, lunch & dinner Saturday.
Please specify special dietary needs when you register (gluten free, diabetic, vegetarian), and whether child, adult, or no meals are needed.
We try to keep the meals & breaks light and reasonably healthy.
ATTIRE & WEATHER AVERAGES
Conference attire is casual. However, while it may be warm and humid outside, hotel meeting rooms can often be cool so please consider a light sweater for the meeting rooms.

Average July highs in Knoxville are 87 with average lows of 69 and occasional thunderstorms.
Parking is included in registration for those driving.
If you are flying you will be responsible for transportation costs from your home city to Knoxville, TN, which is about 18 minutes (13 miles) away.
If you advise us of your itinerary in advance, we will try to arrange free shuttles to and from Knoxville, TN airport.
Discover the best shopping in Knoxville at Market Square and on Gay Street where you will find crafts made by local artisans and discover unique Tennessee souvenirs and gifts. Browse some of the city's best shops, boutiques, and retailers just 2 blocks away from the Hotel. Also nerby are the University of Tennessee, the Sunsphere and World's Fair Park, the Knoxville Museum of Art, East Tennessee Historical Society, the Historic Old City, and the Tennessee Theatre.
Note: EARLYBIRD BONUS – Register by June 3rd and GET THURSDAY NIGHT FREE! Earlybird Registration closes Saturday June 3rd.
Also note … Your hotel room is included in the costs below – unlike most other rare disease conferences where you have to book and pay for your room separately! 😉
Prices are kept as low as possible through grants from our partners!  The conference is not a fundraiser for MLD Foundation. 
Limited Scholarships are available – see the tab below this one.
1st adult –
staying at the hotel
$200

Includes first adult and all MLD-affected family members, 2 nights at the hotel , meals as described above and a conference folder.
* The hotel specifies a maximum of 2 people in a king room or 4 in a double queen room. Note: only the queen rooms have tubs. Limited number available.

* EARLYBIRD BONUS – Register by June 3rd and GET THURSDAY NIGHT FREE! … That's a total of 3 hotel nights included. Earlybird registration deadline is Saturday June 3rd

* This price is only for families with a MLD loved one – including MLD angels!

1st adult –
NOT staying at hotel
$200
Includes first adult & all MLD-affected family members, same as above but does NOT include hotel room.
Additional Adults
$120
Includes meals as above, and a conference folder.
* Note room occupancy limits in Hotel section, above.
Guests from for-profit companies
$800
Includes up to two nights hotel, includes meals as above, and a conference folder.
* Please note … per conflict guidelines, industry costs are not subsidized and free early-bird night is not available.
Youth/Children
(eating adult meals)
$50
Includes meals as above, supervised youth program (if enough interest is expressed), and access to the children's/respite room.
Children
(eating child's meals)
$30
Includes meals as above and access to the children's program/respite room.
Infants
free
< 1 year old. Does not include child care or meals.
Roll-away beds
$45
Very Limited Availability.
Cribs
$0
Limited Availability
Parking
 
Included with Registration
Airport Transportation
 
Once we know your flight itinerary we will try to arrange free shuttles to and from Knoxville, TN (TYS (McGhee Tyson airport)) airport for you.
Extra Nights
$190 plus parking

Our conference room rate has been extended 3 days before and 3 days after the conference if you wish to stay in the area for any extra time.
Please note that you will be responsible for your own travel arrangements and costs from your home town to Knoxville.
The MLD Family Conference is not a fund-raiser for MLD Foundation – and you are only paying for a small portion of the direct costs. Limited  conference registration scholarships will be available for those needing financial assistance. Please go ahead and register. Enter your confidential scholarship request on the bottom of the registration payment page.
SCHOLARSHIPS & FINANCIAL ASSISTANCE
We want everyone that wants to attend to be able to. If you need assistance with registration or being able to attend please let us know. We will confidentially try to help as best we can. Limited scholarships are available
Please go ahead and register. Enter your confidential scholarship request on the bottom of the registration payment page.
We recognize that life with MLD brings surprises on a schedule you can't always control. However, we have to make firm financial commitments to the hotel for rooms and meals well in advance of the actual conference. Generally, we cannot accept cancellations, however, if you need to cancel please let us know as soon as possible so we can work with you to try an accommodate a refund. We will do our best but the exact refund amount will depend on our hotel contract obligations at the time of the cancellation.
REGISTRATION POLICY & FINE PRINT
The MLD Family Conference™ is for the benefit of MLD affected families and those providing their immediate support. We restrict attendance to create an atmosphere of intimacy for the families and to keep our focus on MLD. MLD Foundation reserves the right to restrict or deny registration and attendance at MLD Family Conferences to achieve this goal.
This conference is being organized by MLD Foundation. Check with your tax consultant about the deductibility of any expenses associated with this conference.
Thank you to our SPONSORS, DONORS, & GRANT PROVIDERS
Thank you to our generous sponsors and grant providers who through their generous support make this conference much more affordable for the attending families. We anticipate and want to thank in advance the families who individually donated to support of our conference scholarship fund.