While most rare diseases show symptoms early in life, many are later onset diseases because our genetics are always with us.
Genetic inheritance patterns can vary from single gene autosomal recessive (like MLD) where 50% of offspring are carriers, 25% are affected, and 25% are free of the bad genes entirely … to autosomal dominant where 50% of offspring have the disease … to several forms of X-linked where which parent is affected and the sex of the child determine the inheritance pattern … or inheritance can be a more complicated multifactorial pattern that includes genes and environment … and there are mitochondrial inheritance patterns as well.  Learn more about forms of inheritance here.
It is important to note that carriers, while most often not sick, can pass along carrier or affected status if their spouse/partner is also a carrier.  Very rare diseases like MLD have a frequency of 1 in 40,000 births, but note this equates to 1 in 100 of the general population being a carrier.  That's one carrier in every 3 or 4 school classrooms, 2 or three carriers in every movie theater, and about 685 carriers at this Sunday's Super Bowl (68,500 seats)!
---
Rare Facts – what we've learned so far …
1 in 10 have a Rare Disease.
over 7,000 Rare Diseases … 30 million Americans, 30 million Europeans, 350 million world-wide are affected by Rare Disease.
80% of Rare Diseases are genetic.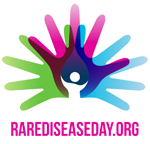 February is Rare Disease month, culminating on February 29th – a Rare Day indeed – which is Rare Disease Day.
Stay tuned for month of Rare Disease facts, tidbits and things to know.
Sign up to follow this blog and be sure to share this post.